My husband and I recently decided to start getting more active and eating healthier meals. Let's face it, with everything going on in the world over the last few months it has been difficult to stay motivated and positive. I found myself in a rut. Before becoming a Mommy and after having my daughter I'd say I was pretty active and "fit". I ran 2-4 miles several times a week and incorporated weight training at least 3 days a week. About three months after having my daughter I found myself craving that active and fit lifestyle again, and discovered a workout group tailored for Moms and soon-to-be Moms called Fit4Mom. What a blessing that was! Not only was I back to working out regularly again, but I also met some awesome Moms and my daughter and I made some great friendships along the way.
I continued with that program for about 2 1/2 years but, as our daughter got older, life got busier, our schedule changed, and we stopped attending classes. Fast-forward to more recently and I just couldn't seem to make my overall health a priority again. I was doing and eating whatever was convenient just to get by and get through our busy days, while ignoring my own health. So, about a two weeks ago my husband and I decided to put our daughter in our jogging stroller and go for a jog together as a family. It was exhausting, but it also felt exhilarating; almost like a huge weight had been lifted off my chest. The look on my daughters face and her little high-fives both during and after the run were so motivating! An added bonus is that since then, we have turned exercising into a great way to spend some time together as a family too.
By now you're probably wondering where the pizza comes into play! I do enjoy living a healthy and active lifestyle and all, but I really LOVE food! I'm a foodie at heart, so naturally I've tried dieting and meal plans in the past and have failed simply because I like to indulge in delicious, not-so healthy dishes sometimes. I really believe life is all about balance, and although it is okay to have a treat and indulge in cravings from time to time, if your ultimate goal is to get or stay "fit" it's important to balance that with some healthier choices as well.
I'm no expert at the nutrition side of healthy eating, but I joined the "Get Moving Challenge" shared in our Facebook Group by Sandra Hernandez and she helped guide me on setting attainable and healthy nutrition goals. Since then I've been trying to stay within those nutrition goals by keeping track of my macros in the MyFitness Pal app while still making quick, easy, delicious and satisfying meals. Pizza has always been a favorite of mine, so when I saw our approved shopping list an idea came to my mind for a "healthy" pizza. I looked at a few recipes online and tailored this one to my liking.
You will need:
1 Cauliflower Crust pizza (I used the frozen Caulipower brand 12-inch pizza crusts)
8 oz. Grilled Chicken breast
1/2 cup Black beans, drained and rinsed
1 cup shredded Mozzarella, part skim or 2% is best
1/4 cup prepared pesto (this "Skinny Pesto" is a great lower calorie and lower fat option, but you can use any store bought brand)
1/4 cup spinach, chopped (I used frozen spinach)
Non-stick Olive Oil cooking spray
Instructions:
Pre-heat your oven to 400 degrees
Grab a large skillet or heat an indoor grill pan and spray with non-stick cooking spray. Cook for 10-15 minutes or until cooked through completely, then cut it into cubes, and set aside.
Spray your pizza pan with non-stick cooking spray, place your frozen crust on it, then spray the pizza crust as well.
Spread the pesto on the crust, then top your pizza with the grilled chicken, beans, tomato spinach and cheese.
Bake for 10-12 minutes, or until the cheese is melted and enjoy!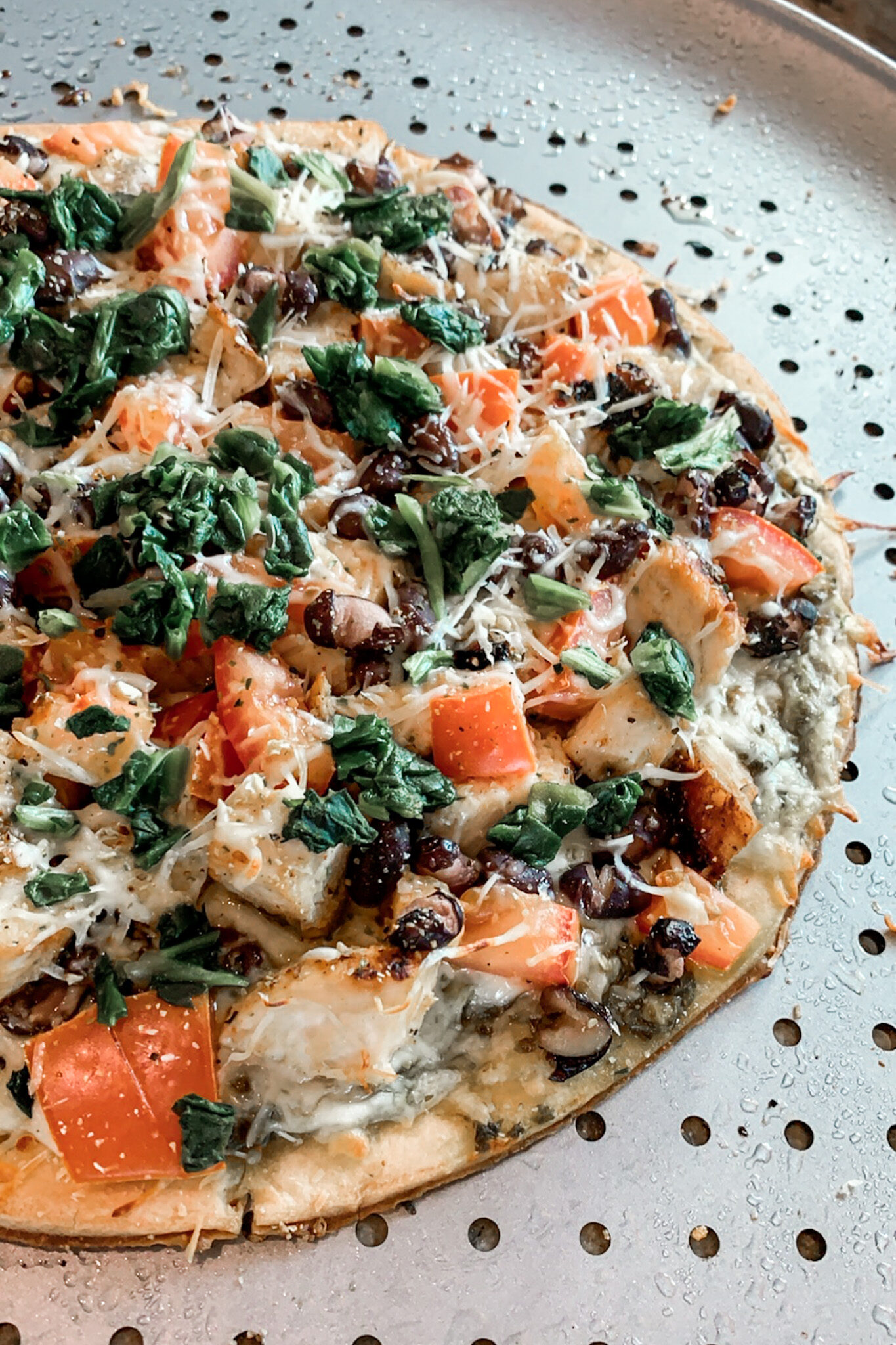 While I baked this pizza for my husband and I, I used the other crust in the pack of 2 to make a more traditional pepperoni pizza for my daughter using turkey pepperoni. She really enjoyed it and didn't notice the difference in the crust or the pepperoni, so I'd say it was win! The serving suggestion to remain within a good calorie intake is 1/3 of the pizza, which amounts to about 2 slices. It was more than satisfying for me, and I even had some leftovers for the next day. Eating healthy doesn't have to be boring! You can make it fun and delicious too! I hope you enjoy this recipe as much as I did.

Until next time, Babes!
-Mari