As we close another successful month of September Social full of amazing entrepreneur women, I couldn't leave my old friend Ruby Delgado out. I've known her for many years and it's a pleasure to see her flourish into a thriving fishing captain and business owner of Southern Salty Girl. While this was not how she envisioned her life journey to be, she quickly would learn to do something that she truly enjoyed to do. She's followed a path we all yearn to have and that's to have a job we have a passion and love to do.
Growing up we all knew Ruby as the youngin' on our varsity team; she was our little sister and I definitely gave her a hard time. However, she was a good athlete that earned her spot on the team and we grew to be good friends over the years. Her mom was our biggest fan and did not miss a game. During the season, we learn her mom would be battling her biggest fight against breast cancer. Despite her battle, she showed up to support her baby girl, Ruby, no matte what. Mrs. Delgado was the sweetest, most positive and kindest lady you could ever meet. Their bond as mother and daughter was so strong. Sadly, Ruby lost her biggest fan in the stands in 2006, but she gained an angel to watch over her from a heavenly stand.
The passing of her mother lead ruby to believe that maybe a medical career is where she needed to be so she completed vocational school to become a medical assistant. This career path presented her with the opportunity to look up her mother's medical records and information on her passing which ultimately gave her the closure she felt needed for so many years. After working in the field for a short time, she realized she had found the answers she was looking for and decided perhaps a profession in the medial field was not her true calling in life. She left her career as a medical assistant in search for what that calling really was.
With the weight lifted off her shoulders, she decided it was time for her to dig deep and really ask herself "who is Ruby?" She began to go out on the water alone, where she could really think about what she wanted to do with her life. Then it dawned on her; her calling would be FISHING! Being out on the water gave her a sense of peace and happiness. Fishing was one of her favorite hobbies and something she had been doing for years; it came effortlessly for her. She followed her heart, and started fishing .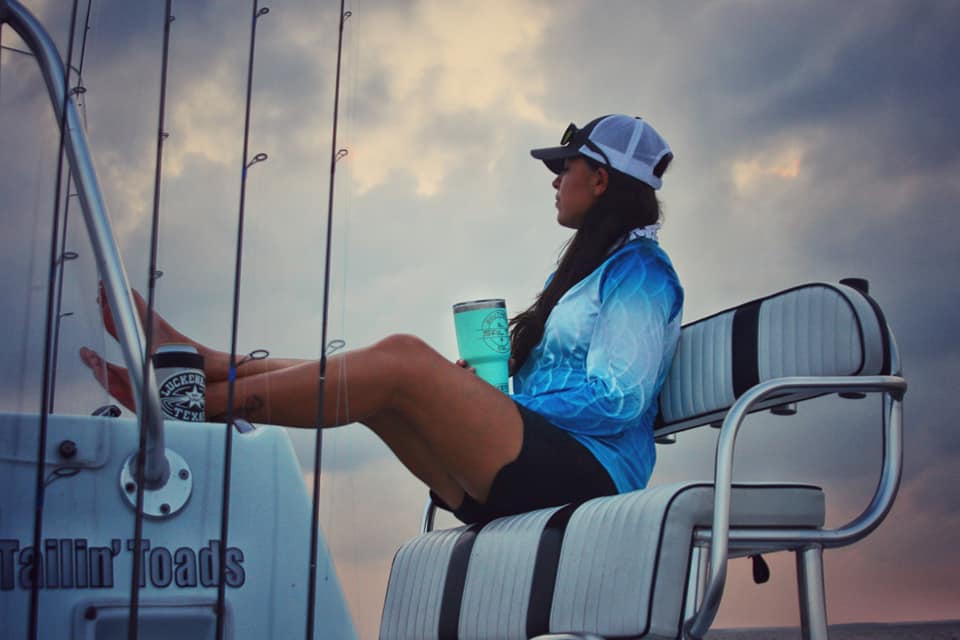 Fishing companies quickly began to recognize her for the "woman fisherman" that could do it all. They watched in disbelief as she would launch a boat and come back with tons of fish one trip after another. Fishing has historically been known as a "man's sport", yet here was this young woman doing it all on her own and excelling at it. She was even better than many men in the business! These companies were so impressed by her fishing skills that they began to ask Ruby to promote and become an ambassador for their brands. The demands for Delgado to be a brand ambassador lead her to go to school and get her captain license.
After completing all she needed to be licensed to have her own boat, she decided she needed to begin her own brand as a captain. She wanted a brand and logo that was catchy with a name that women could love and want to wear too. After tossing around some ideas and brainstorming, Southern Salty Girl was born. As a local product of Deep South Texas, she thought the name was extremely fitting and just right for her business. Shortly after she created her business, her social media pages and apparel line followed suit. With that, she began to network at fishing expos all around Texas which opened the door for many more wonderful opportunities.
Captain Ruby is working hard to excel in her business of fishing charters and helping women get more involved in outdoor sports. She is currently a brand ambassador for D.O.A Fishing Lures, Waterloo, Tallin' Toads, Reactor Watches, and Hookset Marine Gear. You can also find Captain Ruby featured in a number of prominent fishing magazines as well. She was recently asked to be part of a campaign with one of the world's largest fishing clothing companies, Columbia PFG. They flew her out to Florida to fish as their featured saltwater talent, did a professional photo shoot (photos featured below), and also filmed a commercial and some interviews. It was a huge accomplishment, to say the least!
This young captain has only just begun to test the waters with her talent and she is not done reaching for the stars. She wants to show young ladies that if you search for what makes you happy and hustle to get it, you can make your dreams come true! Her biggest piece of advice is, "It may not be easy and you will have tough times, but in the end there will be a light at the end of the tunnel. Just keep swimming."
I, personally, could not be more proud of the woman my friend has become and have truly enjoyed watching her achieve her goals like a total boss. She is the epitome of a driven and motivated woman I think we all seek to be. Her story is the perfect example of where passion and networking can get you. She has shown us all that women can do anything man can do, sometimes even better!
If you're ever in South Padre Island and looking to get out on the water, Captain Ruby on Southern Salty Girl is the fishing charter you want to be on. My son and I have enjoy many fishing trip with Ruby. She is extremely knowledgable and so patient with teaching us how to hook a fish. Be sure to book your next fishing trip with her. I'm excited to continue to follow her journey and see my friend continue to excel.
You can follow her journey on her facebook and instagram linked here.
In loving memory of Maria Delgado
-Victoria C.